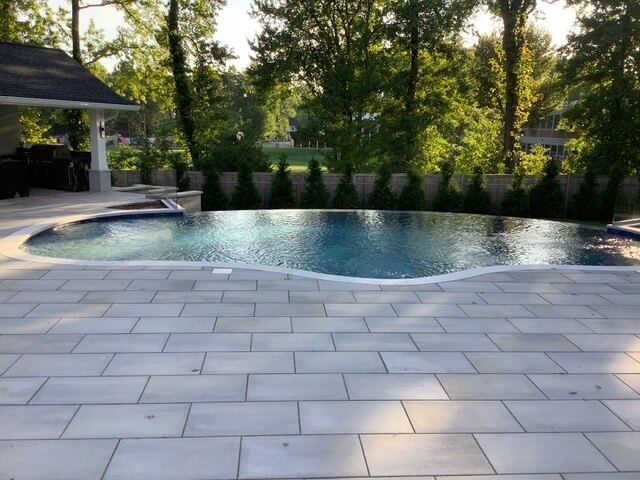 A Westfield, NJ Backyard Outdoor Entertaining Oasis
When a valued long term client asked us to fulfill their vision for an outdoor entertaining area for their home in Westfield, NJ we went right to work. We created a detailed plan designed around creating a resort-like outdoor living space for their family to enjoy.
We made the pool design the centerpiece of a relaxing entertainment complex. Such a design gives their backyard the feel of an oasis getaway typically only found at a resort. We worked with the natural contour of the property so it flows elegantly into the entertainment area, and designed the landscaping and plantings to give it a very natural feel.
Outdoor Plant Selections
We selected Endless Summer Hydrangea because it has an amazing blue flow. We also used Anthony Waterer Spirea for a brilliant vibrant color. For privacy trees we chose Green Giant Arborvitae. To help with the lower area and water we chose River Birch. As a focal point tree we used a Crap Myrtle. To create a nice layered planting and spring and summer show of colors we used a variety of perennials.
Landscape Lighting
We added Landscape Lighting throughout the space to enhance nighttime entertaining. Adding uplighting on all the plantings extends the use of the space into the later hours of the evening.
Outdoor Entertaining
A cabana, outdoor kitchen and outdoor fireplace all work together to create the perfect setting to entertain family and friends. This amazing outdoor living space in Westfield, NJ was created as a place for everyone to gather and enjoy.
Countless hours of design and field work went into this project and no detail was spared. Our goal was that the family should enjoy this amazing space for many years to come.
A special thanks goes out to Landscape Designer Esperanza D. Bongiovanni, whose dedicated work made this vision a reality.
Contact G.A. Landscape Design & Associates at 908.789.1859 to see how we can help you transform your yard into an Outdoor Entertaining Oasis.