The G.A. Landscaping Difference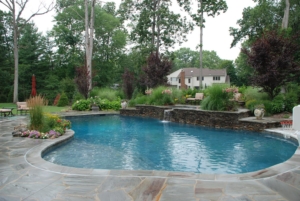 Our commitment to our clients ensures uncompromising professionalism, quality workmanship and a unique attention to detail. Together, that defines a custom outdoor living space. We are specialists in the fine art of landscaping. For that reason, we deliver a functional plan based on your lifestyle and your home's architecture and setting.
When the G.A. Landscape Design & Associates' team creates your outdoor living space, it enhances the way you look at your home. Not only that, but it also substantially increases its value. Once the construction phase is completed, we will have transformed your environment into an oasis of tranquility and beauty. After all, the difference is in the details.
Let G.A. Landscape Design make your landscape dreams a reality today. Offering the highest level of industry expertise, we guarantee 100% satisfaction.
Sustainability & A Green Approach to Landscaping
Plants
Plants and trees are beneficial to the environment and our health, and they play an essential role in G.A. Landscape's sustainable designs. After installing your plant life, we save and return all pots and containers to our growers for recycling. This act, alone, greatly reduces our carbon footprint and helps preserve the health of our environment.
Hardscape Masonry
Similarly, it is important to us that the suppliers of our pre-engineered products recycle the water used in the manufacturing process. Most concrete taken from our project sites is also recycled. This is because we're committed to repurposing whatever materials we can. We also use natural stone products allows us to bypass the manufacturing stage altogether. This allows us to save resources and protect our environment. Another way we care for the earth and avoid waste is by reclaiming aged brick and stone products.
Landscaping Lighting
Carefully planned lighting schemes lend elegance and safety to your outdoor space. G.A. Landscape specializes in low-volt lighting powered by less than half the electricity required for traditional 120-volt lighting. The latest LED systems save up to 80%-90% on electricity, minimizing your environmental impact and lowering utility costs.
To learn more about our sustainability commitment and green product lines, call 908.789.1859 or connect with our team online.